GXT Wheel Seal
THE GXT Green Wheel Seal Medallion
One of the most visible contributors to the carbon footprint of individuals and corporations is the pollution put out by our vehicles. Fortunately, this is also one of the easiest elements to calculate and counteract with carbon offsets.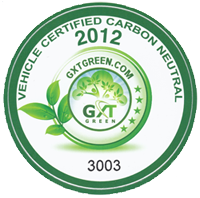 GXT Green is proud to offer an efficient and cost effective way to offset a vehicle's carbon footprint, with our GXT Green Wheel Seal Medallion program. The carbon footprint is calculated easily based on the type of vehicle you own and the mileage that you estimate that you drive each year. In the case of construction or heavy equipment, this can be calculated based on hours of usage.
The cost to offset your vehicle's footprint varies based on your usage and the type of car you drive. Typically, the cost to offset a household car carbon footprint will range between $50 and $150 per year. For big rig truck or construction equipment, it may run several hundred dollars per year.

What do I get?
To demonstrate your contribution towards reduced climate change impact, GXT Green will provide you with a registered and serialized medallion which represents that US based carbon offsets have been purchased to neutralize the CO 2 given off annually by your vehicle. You can display the medallion proudly on your vehicle which lets people know that you are doing your part.
How do I obtain a Wheel Seal Medallion?
Currently, we are offering the medallions exclusively through automobile dealers, or directly for commercial fleets. If you are purchasing a car, or if you already have a car that you wish to offset, ask your dealer. For more information, please contact us at
wheelseal@gxtgreen.com
. Automotive Dealers and fleet owners interesting in this programare welcome to contact us directly as well.