Bans Over Plastic Bags Face a Growing Backlash
More states with backing from bag manufacturers and business groups pushing for bills preventing such bans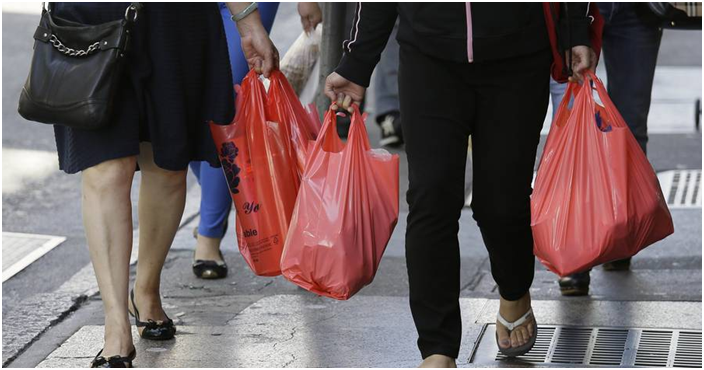 Supporters of a Pennsylvania bill said it would preserve 1,500 jobs at 14 facilities in the state that make or recycle
plastic bags. PHOTO: ERIC RISBERG/ASSOCIATED PRESS
By
Kris Maher
Updated June 25, 2017 12:18 p.m. ET
187 COMMENTS
Business groups are fighting back against plastic bag bans across the country, setting up collisions between manufacturers, environmentalists and lawmakers.
A decade after San Francisco became the first major U.S. city to ban plastic shopping bags, dozens of municipalities have followed suit. Others like New York and Washington, D.C., have added fees for using some bags. California banned plastic bags at major retailers in 2014.
More recently, more states with backing from plastic bag manufacturers and other business groups have pushed back with bills preventing such bans. In May, Minnesota Gov. Mark Dayton, a Democrat, signed a bill to prevent cities from banning plastic, paper or reusable bags. The move killed a plastic bag ban in Minneapolis passed last year. At least five states have similar laws that prevent such bans.
In Pennsylvania, the Republican-led House and Senate passed a measure with support from Democrats that would prevent bans on plastic bags statewide.
Officials from at least four major cities in the state, including Philadelphia and Pittsburgh, said they opposed the bill. Gov. Tom Wolf, a Democrat, said he would veto the bill, saying cities should be able to make decisions "in the best interests of their constituents."
But supporters said the bill would preserve 1,500 jobs at 14 facilities in the state that make or recycle plastic bags.
"You have manufacturing jobs that are at issue," said Rep. Frank Farry, a Republican from Bucks County who sponsored the bill. "If that factory closes up, it affects the diner, the school system."
While no city in Pennsylvania has enacted a ban on plastic bags, the idea has been proposed in the past by officials in Philadelphia. Mr. Farry said the bill would pre-empt such laws and make the state more attractive to companies considering relocating there.
Environmental groups meanwhile continue to push for ways to reduce plastic bags and other consumer plastics, which have been found in ever greater quantities in the oceans and other water systems.
About 8 million metric tons of plastic find their way into the oceans each year, a World Economic Forum report found last year. At the current rate, there will be more plastic than fish, by weight, in the oceans by 2050, the report said. Roughly 25 countries have enacted measures to cut the use of plastic bags. In 2008, China barred retailers from giving customers free ultrathin single-use plastic bags.
Plastic bags were introduced by grocery stores and other retailers in the U.S. in the 1970s and spread rapidly. An estimated 100 billion plastic bags are thrown away in the U.S. annually.
"We had a very functional society before we had plastic bags," said Sherri Mason, chair of the Department of Geology and Environmental Sciences at the State University of New York at Fredonia. "These are items we're using for minutes and we're making them out of materials that last for centuries. It makes no sense."
In Pennsylvania, plastic bag manufacturers urged Gov. Wolf to reconsider his stance on the bill, saying it protects jobs and encourages recycling.
"Government-enacted bag ordinances inevitably restrict consumer choice, and a strong majority of Americans prefer the promotion of voluntary recycling programs to government regulation aimed at plastic bags," said Matt Seaholm, executive director of the American Progressive Bag Alliance, an industry-supported group.
Write to Kris Maher at kris.maher@wsj.com